These easy art accents motivate kids to write and reward them for their work!  In addition, they add color and charm to any child's story.
Even my most timid writers quickly find a reason to write if they know they can stick a sticker, add googly eyes or paint to create a fun border design.
Be sure and check out the many easy art accent ideas listed at the bottom of this post!
Bordered Paper
For all of my writing classes, students write on bordered paper.  That way they can decorate the border around their writing with an art accent.  You can print and use this paper as well.  Here is the paper for Grades K-2 and Grades 2-7.
Here's a printout of a border with no lines to use with very early writers.
*This post contains affiliate links.  For more information, see my disclosures here.*
Protecting Your Work Surface
Here are a few ideas to protect the desk or table that your child or students are working on:
Dollar Tree Table Cloth
Plastic table covers with elastic*
Anything that works for you and keeps your tables clean!
Adhesives
My writers and I use these adhesives on a regular basis.  They're good to have around at all times.
Glue sticks*, Elmer's Glue*, and Glue dots*
Materials to Have on Hand
Here's a list of super simple materials that my students use to add easy art accents to the border of their stories.
Additional Materials
A flat, rectangular, plastic container*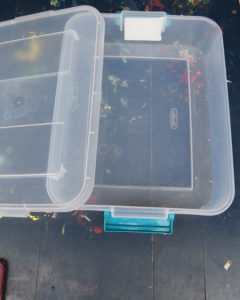 This is useful for the following art materials
Finished Product
As soon as students are done completing their art accent, they place their story in a plastic page protector*.  If an art accent includes paint, glue or glitter glue, they wait for the border to dry completely before placing it in the plastic page protector.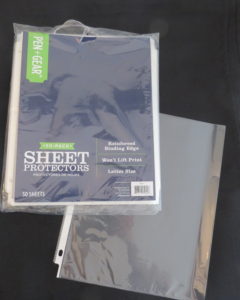 Finally, they place their story in their writing folder or binder.
Setting Up a Classroom
If you are a regular classroom teacher conducting the guided writing lessons from my website, I suggest setting up an art accent table.
This is what I do for my summer camps when I have 12-24 campers.  My campers write at tables in the front of a room.  So, I set up an art accent table at the back of the room.
As campers finish their writing, they move to the back table to complete their 5 minute art accent.  Then, they either set the piece aside to dry or place it in a plastic page protector*.
Print a List of Material Ideas
Here's a list of materials for you to print and use.
This list may cause you to generate ideas of your own!  Also, I will be adding more materials as I use them in my own teaching.
You can receive new ideas regularly by signing up to receive my FREE monthly newsletter below.
Easy Art Accent Ideas for You to Use!
Check out these easy art accent ideas that I've used to motivate kids to write and have posted so far!