Kids write an A to Z poem about a leopard, then add an easy leopard art accent!
Conservation
Kids love wildcats!  If you have a location near you that houses wildcats, definitely read on and find out how you can use any one or all of my wildcats lessons with your students.
Here in North Carolina we have the Carolina Tiger Rescue.  They receive large cats that people decide they can't handle as pets.  Their mission is to discourage people from attempting to domesticate such wonderful creatures.
My colleague, Kim (owner of Artz Hub) and I were inspired by our successful partnership with the Duke Lemur Center and wanted to branch out.  The Carolina Tiger Rescue seemed like a natural fit for our book creation camps and so we were thrilled when they agreed to partner with us, too.  As a result, we started holding art and writing workshops and summer camps at their location.
Support Their Mssion-Conservation and Education
Part of the partnership is that we incorporate their mission into our art and writing lessons.  So, the wild cat writing lessons are ones that I have actually conducted at their facility with children.  If you have a similar location near you, or even a zoo that houses wild cats, I'd strongly encourage you to plan a visit so the children can learn more.  Then, use any of the Wild Cat prompts as a follow up activity!
A to Z Poem About a Leopard
This A to Z poem about a leopard was written by campers attending our summer art and writing camp at the Carolina Tiger Rescue.  For our last day of camp, we focused on the leopard by writing a descriptive A-Z poem. It's a quick and fun lesson!
I wrote the letters A to Z in two columns on a whiteboard, like this: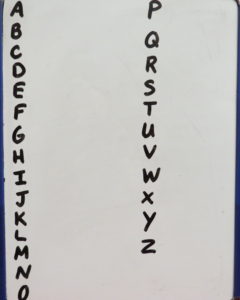 Bordered Paper
Here is paper for Grades K-2 and Grades 2-7 There are lines to make it easier for the students. These templates have a border so they can later add their rosettes art accent.
Having the children write their own two columns of letters can be tricky. Teach them to write the first column next to the left line. The second column should start in the middle of the paper, so it looks like this: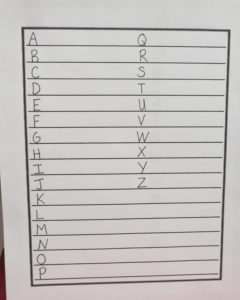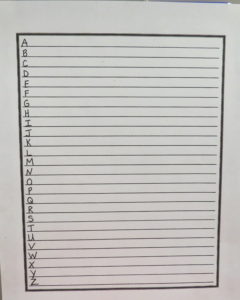 Print the Template
If you don't have much time to work with, or you are working with younger children, I suggest using the template that already has the letters typed in.  Here they are!  Grades K-2 A to Z and Grades 2-7 A to Z
Setting Up the Lesson
Before the children begin to write, we work together as a group to fill the letters B-Z. Campers can use some of the words that we write together and add words of their own.  They only need to write one word per letter.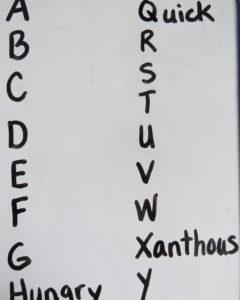 Xanthous
I learned the word XANTHOUS in the process of completing this poem with the kids.  XANTHOUS means yellowish, or marked by yellow coloration.  Perfect for describing a leopard!
NOW TO WRITE!
 First, leave the letter A blank.
Second, write one adjective for each letter B-Z.  The adjectives describe the leopard.
Third, under the letter Z, campers write the word leopard.  They can write the word LEOPARD large, all capital letters, use markers or even ABC stickers*, however they want it to look!
Here is an example of a completed poem: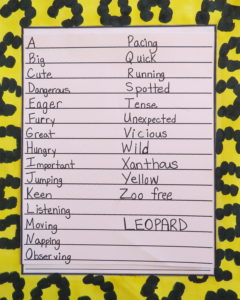 Here's the lesson for you to print out and use  as well as a the sample above for you to print.  This prompt can be used with ANY animal or noun.
The Valiha
We used this same format for the Valiha-A to Z poem.  The valiha is a musical instrument from Madagascar.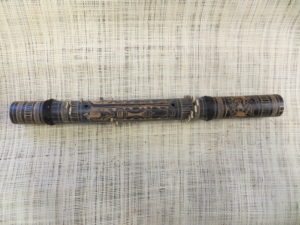 Once the students complete their Leopard A-Z poem, they can add rosettes to their border:
This easy leopard art accent is highly motivating to writers and rewards them for the work!  In addition, it adds color and charm to each child's story.  Like most of our easy art accents, these leopard rosettes can be completed in less than 5 minutes and added to any writing piece about leopards.
My summer writing campers wrote an A to Z poem about leopards.  Then, they finished the border of their poem with this leopard rosettes art accent.
Bordered Paper
The campers wrote on lined paper with a border.  Here's a printout of the lined paper I use for PreK-K, Grades 2-7  and Grades K-2.  The PreK-K paper doesn't have lines and is only used for very early writers.
Here are the 2 simple steps!
First, writers complete their poem.  Then, they use a yellow marker to color the border all the way around.
Next, they use a black marker to color in the rosettes.
Done!
Here is a sample to print and hang.
Facts About Leopards
Take this lesson a step further.  Have your students read facts about leopards here!
GAMES TO PLAY!
Wild cats are a big hit every year at my summer writing camps.  Here students unscramble the names of wild cats using letter tiles.  You can read my full post on different ways to use letter tiles here.
Writers can unscramble the wild cat names using the letter tiles.  Or, they can simply unscramble the words by writing them on small white boards as well.  The letter tiles are just another fun way to practice the words!  (You can use letter tiles from old Scrabble games or you can purchase different color sets of 100 wooden letter tiles online at Amazon.  Here's the link*.)
10 CATS
There are 10 different cats at the Carolina Tiger Rescue so those are the names I used.  I made a document listing all 10 cats (9 plus the tiger in the logo) so they had something to refer to.  Here are the 10 Cats for you to download and use.  I print one for each group and slide it in a plastic page protector* so it can be reused many times.
I give each group of 2-3 children a box of letter tiles.
On the white board at the front of the group.  I write the letters to one of the cats in a scrambled fashion.
The children race to form the word with their letter tiles.
The game continues until they've completed all 10 names or the allotted time runs out!
Print the Instructions
Here are the game instructions for you to print out and use.
Additional Writing Games:
Word Scramblers  (Scrambling adjectives)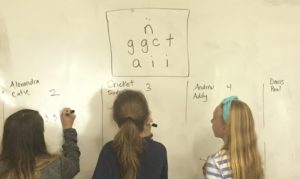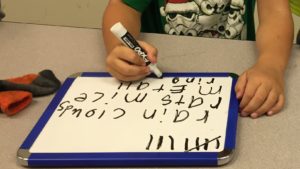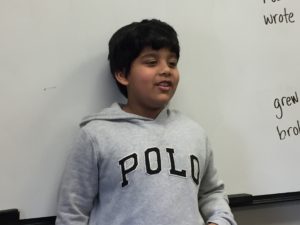 *Any background knowledge and information needed for this prompt came from the staff and tour at the Carolina Tiger Rescue.*