This gumball machine writing prompt turned out to be really fun.  I was actually surprised at how well this lesson went.
*This post contains affiliate links.  For more information, see my disclosures here.*
We completed this gumball machine writing prompt during the summer Instructional Manuals Writing Camp.  Instructional Manuals might sound boring for some, but we made the week really fun!  I loved reading the kids latest and greatest inventions!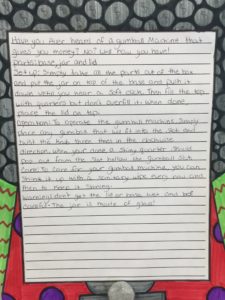 Common Core State Standards
NOTE:  This lesson can address the following Common Core State Standards:  CCSS.ELA.LITERACY.W.K.2, W.1.2, W.2.2, W.3.2, W.3.2.A, W.3.2.C, W.3.2.D, W.4.2, W.4.2.D, W.4.2.E, W.5.2, W.5.2.D and W.5.2.E.
I started the lesson off by showing the children my example of an art accent that can go around the border of this writing piece.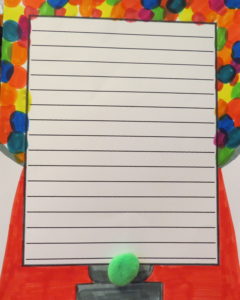 Here's a Gumball Machine border for you to print and hang.
*This post contains affiliate links.  For more information, see my disclosures here.*
I told them they would get one pom pom to glue onto their border to show where the gumball would come out.  That's when I came up with a second idea: a pinball gumball machine.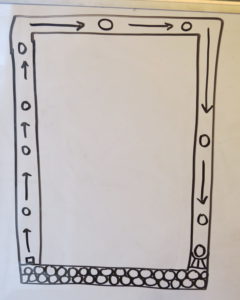 This really got the kids chatting out their ideas!  Allow the students to think outside the box.  It can be a gumball or candy machine, OR something else!  I had a girl from China create a dumpling machine.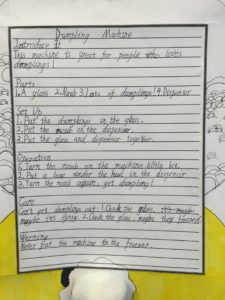 NOW THE LESSON!
To get a full understanding on how I conduct each writing lesson you may want to read the Writing Prompts Introduction post.  The lesson outlined below (and all other prompts posted) will make more sense and be easier to follow and use.  Here's the lined paper I use for Grades K-2 and Grades 2-7
Tell the Story Line
Tell the story line:  "You're going to write an instructions manual for a gumball, candy or any other food machine."
Brainstorm
Brainstorm ideas. Think of a machine idea.  Think about how it works and where the gumball, candy or food will come out of the machine.
Show the 5 Sections
Introduction/Parts
Set Up
Operation
Care
 Warnings
As mentioned in the writing prompts introduction, K-1st Graders are encouraged to write 1 sentence for each section, 2nd Graders 2 sentences, 3rd Graders 3 sentences and so on.
NOW TO WRITE!
Guide the students through the following steps so their story is organized and complete.  They are free to write these ideas in their own words.
Introduction/Parts
 Name your machine and write it on the top line (not in the border).
On the 2nd line, left side, write an introduction that engages the reader.  You can write questions and exclamations.
On the next line, left side, write the word PARTS.
Under the words PARTS, list the parts that you will need to put the machine together.
Set Up
5.  On the next line, left side, write the words SET UP.
6.  Under the word SET UP, write sentences that tell how to put the machine together.
Operation
7.  On the next line, left side, write the word OPERATION.
8.  Under the word OPERATION, write sentences that tell how to use the machine.
Care
9.  On the next line, left side, write the word CARE.
10.  Under the word CARE, write sentences telling how to care and maintain the machine.
Warnings
11.  On the next line, left side, write the word WARNINGS.
12.  Under the word WARNINGS, write sentences listing any dangers that the machine could cause.
Print the Lesson
Here's the full lesson for you to print and use.
EASY ART ACCENTS
As soon as students finish writing they can complete their super simple gumball machine art accent.  This easy art accent motivates them to write and rewards them for their work.  In addition, it adds color and charm to any child's writing about a gumball machine.
Bordered Paper
Students write on lined paper with a border.  Here's a printout of the lined paper I use for Grades 2-7  and Grades K-2.
One Pom Pom
Each student gets one pom pom* to glue on.  They have to decide where it will be positioned in their border.
I colored and showed my students the sample below the first time that I taught this lesson.  You can print it out here to show your students.
Then, as I was explaining the prompt, I came up with this example that I drew on the whiteboard, a pinball gumball machine.
Next, I told them that they would each get one pom pom* to show where the gumball was dispensed.  They could have the color of their choice.  (I had fluorescent pom poms, cotton balls, black pom poms and gray pom poms, all ones that I had accumulated over the course of my Walmart shopping trips.)
Student Samples
Here's what some of them finished with!
Hand-Crafted Gumball Machine
Lastly, for a fun finish, I brought in a gumball machine that I had made back in Jr. High School.  I filled it with gobstoppers that day because I didn't want to deal with gum.
I wish I had a picture of the line these kids formed at break time waiting for their precious handful.  They were allowed to move through the line 2, 3, 4 times.  I didn't want to take any gobstoppers home and they liked turning the nose to get them out!  In the above picture it's filled with Jelly Beans.  Peanut M&Ms and many other small, round candies can work too!
Dollar Tree Gumball Machines
Just the other day before finalizing this post, I saw this one at Dollar Tree and filled it with Jelly Beans as well.  If you're only working with a few students.  Get them one of these gumball machines to go along with their writing.  A sure winner reward for their hard work!
If you want to purchase a real deal gumball machine to have in your classroom or home Amazon* has them.
Gumball to Machine-Mysterious Instructions
Either the same day or the next day, play this simple gumball writing game.  The kids love the mystery of this gumball game every time we play it!  This game creates an opportunity for them to hear instructions and follow them on paper.
Here's how you play!
Have your students write in big letters GUMBALL at the top of a clean piece of paper.
Read through the following instructions for them to follow on their paper.  Take your time.  Go slow so students can follow along comfortably.  Repeat instructions if students ask you to.
Switch the 2nd and 5th letters (gambull)
Cross out the 1st letter (ambull)
Switch the 1st and 2nd letters (mabull)
Change the 3rd letter to 'c'. (macull)
Add an 'e' on the end (maculle)
Change the 5th letter to 'i'. (macuile)
Change the 6th letter to 'n'. (macuine)
Change the 2nd vowel to h. (machine)
They should end up with the word MACHINE if they followed the steps correctly.
Print the Instructions
Here are the instructions for you to print out and use.
Print the same game in worksheet form here.
Fun Facts
Take this game a step further and share fun facts about bubblegum and gumballs with your students!
You may also be interested in the following:
Thanksgiving-Mysterious Instructions
Ring Toss-Writing Instructions