These easy pumpkins on vines art accents are highly motivating to writers and reward them for the work! In addition, they add color and charm to each child's story.
These two art accents can be used with any writing prompt about pumpkins! We completed this art accent after writing a creative story titled, A Gnome in a Pumpkin Patch.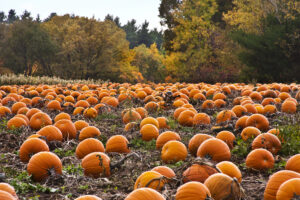 Bordered Paper
For all of my writing classes, students write on bordered paper. That way they can decorate the border around their writing with an art accent. You can print and use this paper as well. Here is the paper for Grades K-2 and Grades 2-7. Here's a printout of a border with no lines to use with very early writers.
*This post contains affiliate links. For more information, see my disclosures here.*
Markers
The first art accent can be completed simply by drawing orange pumpkins and green vines with markers. Here is a sample sample to print and hang.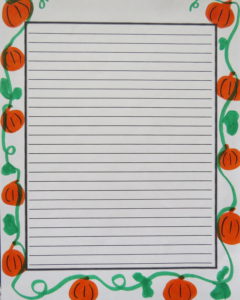 I had stumbled upon green vine stickers and so my students were able to use those for the vine. They then used orange marker to fill in the spaces with pumpkins.
They used this art accent after completing the Gnome in a Pumpkin Patch writing prompt.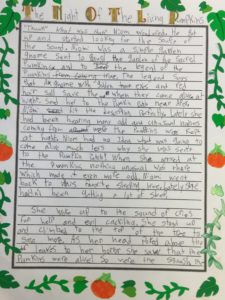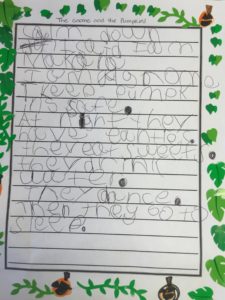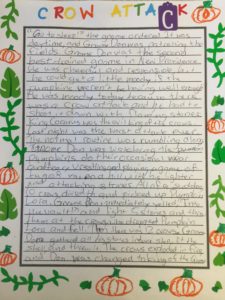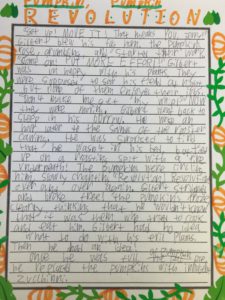 If you have ABC stickers*, students can use those to write a title.
White Crayon and Watercolor
2. The 2nd art accent is just as easy and kids LOVE it! All you need is a white crayon and watercolor paint.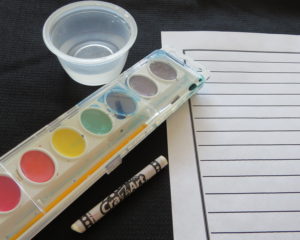 After the students have completed their story, they draw pumpkins around the 3 sides of their border (left, right and bottom) using a white crayon.
Then, they use the white crayon to write their title at the top. The black pen in this image shows a sample of what the students can write/draw with the white crayon.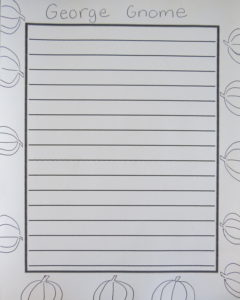 Next, they use orange watercolor to paint over the pumpkins and green watercolor to paint over the title. They can even add a little green in between the pumpkins to represent the vines.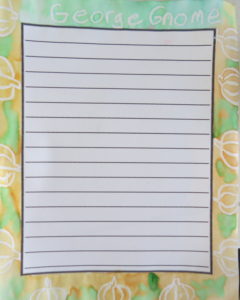 Here's a sample to print and hang.
Science and Slime
For years, I've been following the master of all things slime and STEM at Little Bins for Little Hands. Make time for your students to make pumpkin slime or a pumpkin volcano and incorporate one or both in their fantasy story about A Gnome in a Pumpkin Patch.