This tigers writing prompt teaches young writers about conservation and the proper care of tigers.
*This post contains affiliate links.  For more information, see my disclosures here.*
Wildcats Writing Prompt
Kids love wildcats!  If you have a location near you that houses wildcats, definitely read on and find out how you can use any one or all of my wildcats lessons with your students.
Here in North Carolina we have the Carolina Tiger Rescue.  They receive large cats that people decide they can't handle as pets.  Their mission is to discourage people from attempting to domesticate such wonderful creatures.
My colleague, Kim (owner of Artz Hub) and I were inspired by our successful partnership with the Duke Lemur Center and wanted to branch out.  The Carolina Tiger Rescue seemed like a natural fit for our book creation camps and so we were thrilled when they agreed to partner with us, too.  We started holding art and writing workshops and summer camps at their location.
Support Their Mssion-Conservation and Education
Part of the partnership is that we incorporate their mission into our art and writing lessons.  So, the wild cat writing lessons are ones that I have actually conducted at their facility with children.  If you have a similar location near you, or even a zoo that houses wild cats, I'd strongly encourage you to plan a visit so the children can learn more.
Then, use any of the Wild Cat prompts as a follow up activity!  This tigers writing prompt focuses on the conservation and care of tigers.
Now for the lesson!
To get a full understanding on how I conduct each writing lesson you may want to read the Writing Prompts Introduction post.  The tigers writing prompt lesson outlined below (and all other prompts posted) will make more sense and be easier to follow and use.  Here's the lined paper I use for Grades K-2 and Grades 2-7
Tell the Story Line
Tell the story line:  "The tiger has a flashback/dream of when he/she was at a roadside zoo in miserable conditions.  The story tells how the tiger is brought to the Carolina Tiger Rescue where it is taken very good care of."
Show the 5 Sections
Sounds
Wakes
Birth and Roadside Zoo
Sick
Rescued
Remember:  K-1st Graders are encouraged to write 1 sentence for each section, 2nd Graders 2 sentences, 3rd Graders 3 sentences and so on.
Now to write!
Guide the children through the following steps so their story is organized and complete.  They are free to write these ideas in their own words.
Leave the top line open to write a title later.
Start the story with something the tiger hears every day in his life at the roadside zoo. (e.g. "Five dollars!  Five dollars!  Live tiger photos!" or Vroom.  Screech.  Vroom.  Vroom. "10 dollars to see live tigers" or "Look!  Tiger!"  Flash! )
 (Name the tiger) woke up.  Describe his comfortable home.
(Time ago) (Tiger's name) was born and taken to a roadside zoo.
Explain the terrible conditions such as barren cages, being underfed and having bad shelter.
Describe the incident when he got very sick and there was no proper vet care.
Then, explain how he arrived to the Carolina Tiger Rescue.
Next, describe the positive care, enough food, enrichment activities and great veterinarian care at the Carolina Tiger Rescue.
Conclude with the tiger's happiness.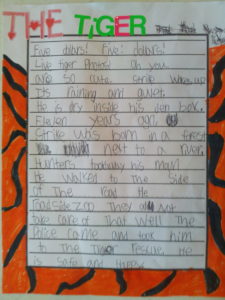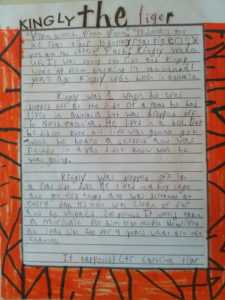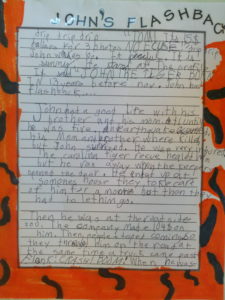 Print the Lesson
Here's the full lesson for you to print out and use.
EASY ART ACCENTS
As soon as student complete their tigers writing prompt, they can begin filling in their border with the Tiger Stripes art accent as soon as they're finished with their writing.  This easy tiger stripes art accent is highly motivating to writers and rewards them for their work!
In addition, they add color and charm to each child's story.  Like most of our easy art accents, these tiger stripes can be completed in less than 5 minutes and added to any writing piece about tigers.
For example, my 5 and 1/2 year old son wrote a personal narrative about his time at the Carolina Tiger Rescue.  Here's his work: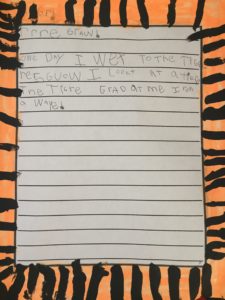 Bordered Paper
For all of my writing classes, students write on bordered paper.  That way they can decorate the border around their writing with an art accent.  You can print and use this paper as well.  Here is the paper for Grades K-2 and Grades 2-7.  Here's a printout of a border with no lines to use with very early writers.
First, students complete their story.  Then, they use an orange marker to color the border.  They can fill in the top as well or leave it blank to write the title with marker or ABC stickers*.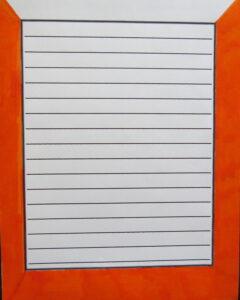 Second, they use a black marker to color in the stripes.  They could use black acrylic paint as well.  (That's what my son used in the example at the top.)
However, I found that markers are easiest and work best with large groups.
Lastly, children can ABC stickers* or markers to spell out a title if they left room at the top.
Here is a sample to print and use.
Facts About Tigers
Finally, take it a step further and have your students learn more facts about tigers here!
Other Wild Cat Art Accents
You may also be interested in these wildcat art accents:
This art accent accompanied an A to Z Leopard Poem.  It can be used to go along with any writing prompt about leopards.
This art accent accompanied our humorous personal narrative about a serval.  The serval tells its own story!  This art accent can also go along with any writing prompt about servals.
This art accent accompanied a persuasive speech spoken by a lion.  It can go along with any writing prompt about lions.
Wild cats are a big hit every year at my summer writing camps.  Here students unscramble the names of wild cats using letter tiles.  You can read my full post on different ways to use letter tiles here.
Writers can unscramble the wild cat names using the letter tiles.  Or, they can simply unscramble the words by writing them on small white boards as well.  The letter tiles are just another fun way to practice the words!  (You can use letter tiles from old Scrabble games or you can purchase different color sets of 100 wooden letter tiles online at Amazon.  Here's the link*.)
10 CATS
There are 10 different cats at the Carolina Tiger Rescue so those are the names I used.  I made a document listing all 10 cats (9 plus the tiger in the logo) so they had something to refer to.  Here are the 10 Cats for you to download and use.  I print one for each group and slide it in a plastic page protector* so it can be reused many times.
I give each group of 2-3 children a box of letter tiles.
On the white board at the front of the group.  I write the letters to one of the cats in a scrambled fashion.
The children race to form the word with their letter tiles.
The game continues until they've completed all 10 names or the allotted time runs out!
Print the Instructions
Here are the game instructions for you to print out and use.
Additional Writing Games: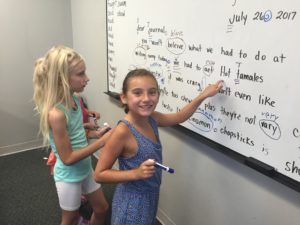 Sentences Scramblers:  (#1 of our Top 5 Writing Games)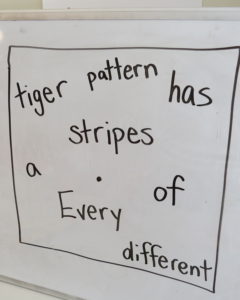 (Scramble tiger facts.  Here's the list of tiger facts that I used to scramble.)
*All background knowledge and information needed for this prompt came from the staff and tour at the Carolina Tiger Rescue.*