If you haven't already, I suggest reading the quick Wild Cats Introduction to learn the background of the wild cat lessons and how they can perhaps work well with your local region.
This particular prompt was created to support the mission and message of the Carolina Tiger Rescue, which discourages companies from using lions for marketing (in logos and advertisements).
To get a full understanding on how I conduct each writing lesson you may want to read the Writing Prompts Introduction post.  The lesson outlined below (and all other prompts posted) will make more sense and be easier to follow and use.  Here's the lined paper I use for Grades K-2 and Grades 2-7
Now for the lesson!
Tell the story line: ""You're going to write a persuasive speech on behalf of the lions (or wild animals).  The speech is going to encourage listeners to STOP using the animals for marketing (TV commercials and logos)."
 Discuss where lions are actually used in marketing
MGM Movies' logo and TV commercials for the grocery store Food Lion (a southern chain that my campers are familiar with).
3. Discuss reasons why people shouldn't use live lions for these ads.
It's dangerous for the trainers.
Being in front of a camera is an unnatural environment for lions.
Using real lions in ads misleads us to believe that they are safe.
4.  Show the five sections:
Introduction
Reason #1
Reason #2
Reason #3
Conclusion
Now to write!
4. Leave the first line blank for the title.
5. Introductory statement (1, at most 2 sentences)
Lions should NOT be used for marketing and sales.
6. First of all, (reason #1 using 1-5 sentences)
7. Secondly, (reason #2 in 1-5 sentences)
8. Lastly, (reason #3 in 1-5 sentences)
9. Concluding statement (no more than 2 sentences)
Using real lions in ads is ______.
10. Choose and write a title. A popular one among campers was "Foolish Advertisements."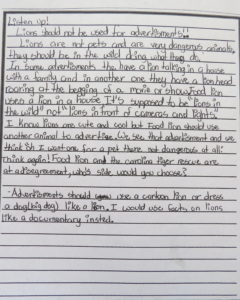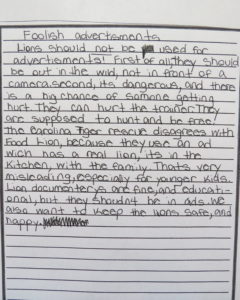 Here's the full lesson for you to print out and use.
Once the campers finished their speeches, they began working on their lion art accent.
GAMES that we played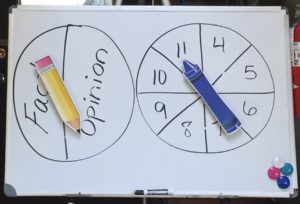 Describe.Guess. (using Brand Names)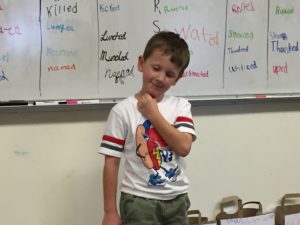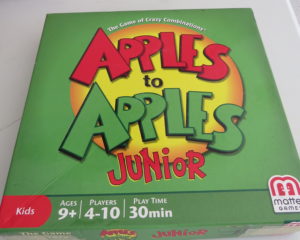 *All background knowledge and information needed for this prompt came from the staff and tour at the Carolina Tiger Rescue.*