These easy marker art accents are highly motivating to writers and reward them for the work!  In addition, they add color and charm to each child's story.
It continually amazes me at how much my writers enjoy using markers to draw a simple art accent around the border of their writing.
Markers Motivate
The best example I have of this is the descriptive writing lesson about the State Fair.  I had a very resistant 3rd Grader.  These days, I rarely have children who just won't write.  My style is so supportive and positive that the most timid writers can find reason and joy to write.
This particular day, we were describing the state fair by writing the things that we see, hear, smell, taste, touch and feel there.  This child had many things to say about the fair but didn't want to write.
I asked him to tell me his thoughts and then, I listed his responses for each of the 5 senses.  Next, I asked him to write one sentence for each thing that we listed.  It was so hard for him.  He was so discouraged.
In between helping other campers, I'd return to him, ask him how he's doing and encourage him with a few words.  Over the course of the 45 minutes, he FINALLY completed his handful of sentences and began his marker border to go along with his writing.
A few minutes later, while the rest of us were all cleaning up, this camper rushed over to show me the roller coaster that he had drawn with a mere black marker.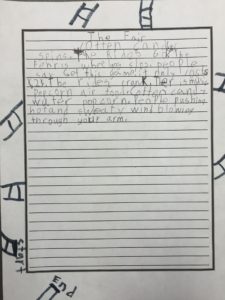 Then, he spent at least a full minute, with great excitement, telling me about the roller coaster that he had drawn!
I'll be honest, it was a frustrating struggle to get this child to write.  But the fact that he ended the time with enthusiasm, I felt like I had accomplished my goal.  The child ENDED his writing experience with joy.
*This post contains affiliate links.  For more information, see my disclosures here.*
Common and Convenient
Markers are the most common and convenient art accent that I use with my writers.   I always stock up on them during Walmart's summer Back to School Sale.  And of course you can get them any time online on Amazon* or from  Walmart*.
Whenever I teach a writing prompt,  I show a suggested art accent to go around the border.   (Here's the bordered paper I give to students to write on in Grades K-2 and Grades 2-7. The earliest writers get bordered paper without lines.)
African Savanna
Once the students have finished writing they can draw the same art accent that I've suggested, or create one of their own.  This past summer we wrote about animals in the African Savanna.  I had hung two sample art accents, one of a lion's mane and another of a zebras stripes.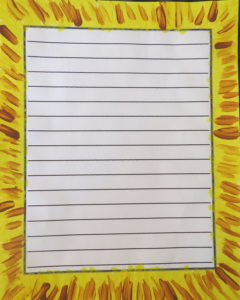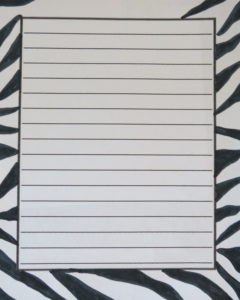 One girl had focused on giraffes and so created her own giraffe border!  All she used was a brown and yellow marker!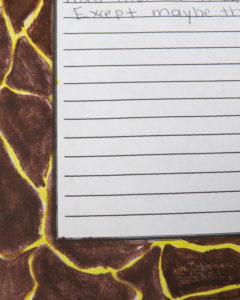 Watermelon
During a descriptive writing camp, we wrote a 5 minute descriptive list about watermelon.  I hung a sample border and the kids ran with it, using marker to create their own watermelon border!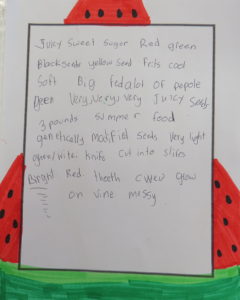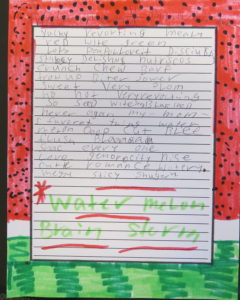 Markers Instead of Crayons
If you're wondering why we use markers instead of crayons, click here!
Lots of Marker Art Ideas!
Here's a list of posted art accents that use marker.  I'm always adding to this list so if you'd like to receive new ideas on a regular basis, feel free to sign up for my monthly newsletter!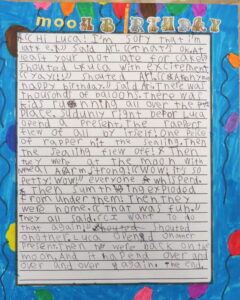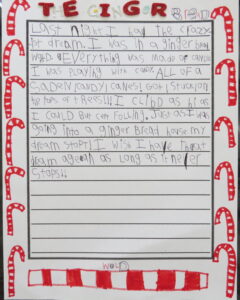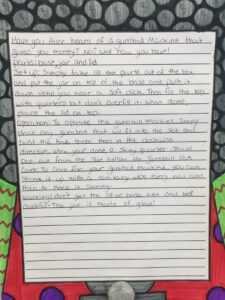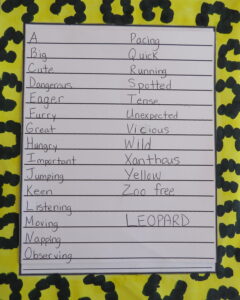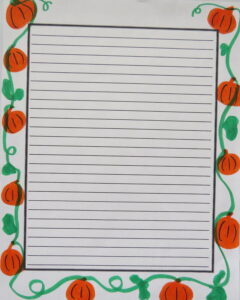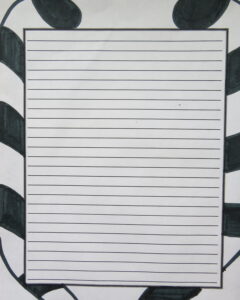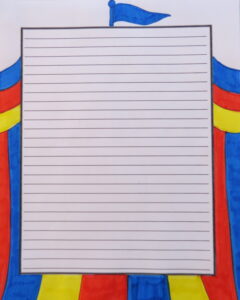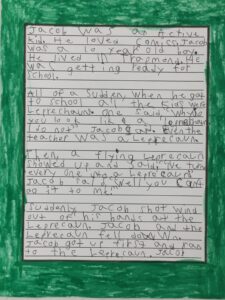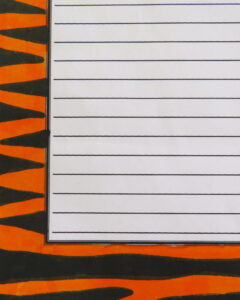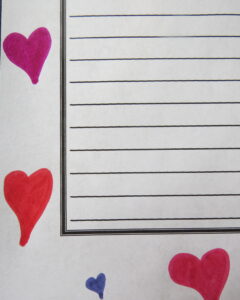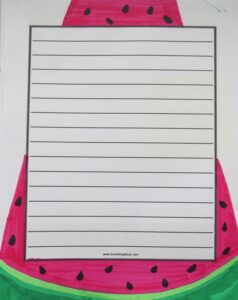 The Apples Opinion With a Twist writing prompt also included a marker border.