This was a great lesson because the campers got to choose a calendar page with a dog or cat on it (which they always LOVE to do!)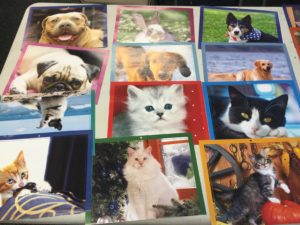 Second, it seems that most kids either have a cat or dog, or dream of owning one.  This prompt is an opportunity for them to try to convince their parents to get them one!
To get a full understanding on how I conduct each writing lesson you may want to read the Writing Prompts Introduction post.  The lesson outlined below (and all other prompts posted) will make more sense and be easier to follow and use.  Here's the lined paper I use for Grades K-2 and Grades 2-7.
Now for the steps!
Tell the students the storyline: "You're going to write a letter to your mom, dad, grandma, grandpa etc., persuading him/her/them that you are responsible and ready to own a pet."
Brainstorm ideas: "What are some things that you can say to prove you are ready?
(Examples, I understand commitment, I understand responsibility, I understand cost…)
Outline of the steps on a whiteboard:  Date, Greeting, Introduction, Reason 1, Reason 2, Reason 3, Conclusion, Salutation, Name
*This post contains affiliate links.  For more information, see my disclosures here.*
Now to write!
4. Write the date on the first line on the right side of the page.
5. Skip a line.
6. Write the greeting on the 3rd line, left side (Capital letters and a comma).
7. Skip a line.
8. Write the introductory statement on the next line stating the main idea of the letter. "In your own words, write, 'I'm ready to take care of a pet.'"
9. Write the first reason and explain it.
10. Write the second reason and explain it.
11. Write the third reason and explain it.
12. Write the conclusion that restates the main idea.
13. Write the salutation under the body of the letter and centered.
14. Write your name UNDER the salutation.
Here's the full lesson for you to print out and use.
Here's a sample of what a student in K-2 might write.
Here's a sample of what a student in 3-5 might write.
Writers can staple their finished letter to the back of their calendar page or put them back to back in a plastic page protector*.
GAMES that we played with this lesson were: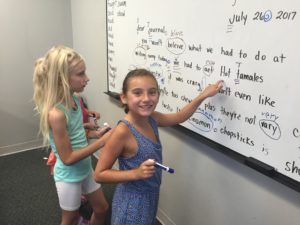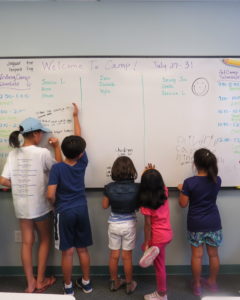 Apples to Apples-Speaking Version