This lesson can be taught anytime of the year using any candy or a sweet treat.
I taught it for the first time the week after Halloween.  My kids had way too much candy and I was about to teach my last after school writing class for the session.  So, I dug through their Halloween buckets and took out all the Twizzlers, Sour Patch Kids and Skittles.  My after school writers wrote Sweet Dreams using those candies.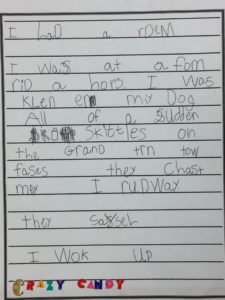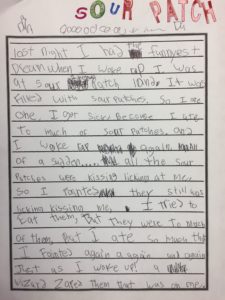 For the website though, I decided to focus on Christmas and post the lesson using CANDY CANES!  You don't need candy canes to conduct this lesson.  The simple candy cane art accent is usually motivation enough to get your  kids to write.  BUT, having the candy on hand is festive and rewards your writers for their hard work.  It's up to you and your resources!
Now for the lesson!
To get a full understanding on how I conduct each writing lesson you may want to read the Writing Prompts Introduction post.  The lesson outlined below (and all other prompts posted) will make more sense and be easier to follow and use.  Here's the lined paper I use for Grades K-2 and Grades 2-7
Start off by telling your students the title of the lesson, SWEET DREAMS.
Have your students tell a dream that they remember to you or a classmate.
Tell the story line:  You're going to write a dream that has candy canes in it.  Anything can happen in your dream!  You just have to incorporate candy canes in some way.
Discuss characteristics of dreams:
Familiar place that is different
Famous people
Trying to do something but can't (see, hear, shout…)
Flying
etc.
Show the five sections or the story:
Place
Actions
Problem
Attempt
Ending
Now to write!
Guide the students through the following steps.  They are free to use the suggestions or write their own words.
Introduction: Last night, I had the _____est dream.  (strangest, best, scariest, craziest, silliest, funniest…)
Describe the place. I was in/at…
Describe your actions. I was…
Show the problem. All of a sudden…
Show your attempt. I tried to…..but….
Ending Just as I was about to….I woke up.
Here's the full lesson for you to print out and use.
My 6 and 5 year old boys completed this lesson.  Here's their work.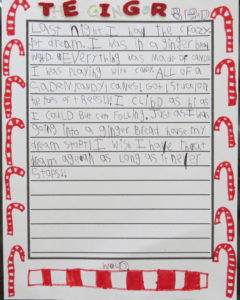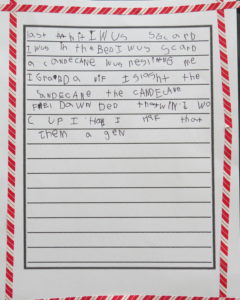 Once you're students are finished writing, they can use any one of the candy cane art accents.
Games that we played following this lesson was