Students describe a hero in detail.  I taught this lesson in January a couple of years ago.  The students were out of school for MLK Jr. Day and we held an art and writing workshop.
For the writing lesson, I really wanted to touch upon the issues that Martin Luther King Jr. fought for and the courage he displayed to do it.
*This post contains affiliate links.  For more information, see my disclosures here.*
Human Traits and Needs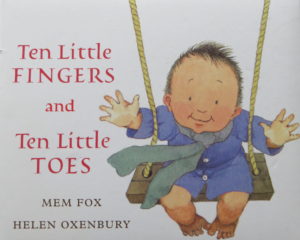 The book 10 Little Fingers and 10 Little Toes by Helen Oxenbury* is indeed a baby book.  The content is extremely simple and states in  a very cute way, the point that regardless of where we are born or what we look like, we all share the same human traits and needs.
I explained that mistreatment of any one person or people group is wrong and that some people are mistreated based on the color of their skin.
Teaching What Prejudice Is
I gave each student a magazine picture of a person or group of people. I used pictures of people of various races and ages.
Each camper tried to tell the name, age, job, interest and character of the person in the picture to the whole group. A point was made when students couldn't really do it.  They only saw a picture and could not hear anything the person was saying.
I explained that prejudging someone based on what we see is called prejudice. Blacks were prejudged for their skin color and experienced unequal treatment.  Martin Luther King Jr. fought for equal treatment for black people and became a hero for it!
Heroes in Our Own Lives
I wanted the children to think about and describe a heroic person in their own life.
In my own teaching, I have students whose parents or grandparents migrated to the United States with very little.  Other students have parents who work more than one job to provide extra activities for their children.  There are other families who have experienced illness yet have blessed their communities through it.  Even a patient, kind and humorous grandparent who keeps the family together and laughing is heroic.
This lesson encourages our students to think of valuable people in their own lives.
HERE'S THE LESSON!
To get a full understanding on how I conduct each writing lesson you may want to read the Writing Prompts Introduction post.  The lesson outlined below (and all other prompts posted) will make more sense and be easier to follow and use.  Here's the lined paper I use for Grades K-2 and Grades 2-7
Tell the Story Line
Tell the students, "You're going to write a descriptive piece about a person you consider to be a hero in your own life."
Brainstorm
As a group, we thought about and brainstormed traits that make a hero, listing words and phrases under these categories:
Actions                                   Spoken Words                                  Adjectives
Write their responses on the board.
Show the 5 Sections
Introduction
Adjective and actions
Adjective and words
Specific story
Conclusion
As mentioned in my writing prompts introduction:  K-1st Graders are encouraged to write 1 sentence for each section, 2nd Graders 2 sentences, 3rd Graders 3 sentences and so on.
NOW TO WRITE!
Guide the students through the following steps.  There are examples in italics for your own guidance.
 First, write an introductory statement that mentions Martin Luther King Jr. and introduces your own hero.
Martin Luther King Jr. is a hero to many people.  I have a hero too.  It's my grandpa.  
10. Describe the person by using an adjective and then listing actions that support the adjective.
My grandpa is patient.   He listens to me every time I talk.  He doesn't get upset when I lose his tools or accidentally break something.
11. Describe the person by using an adjective and then listing things that you often hear the person saying.
My grandpa is funny.  He's always telling jokes.  He also tells stories that make us laugh.  
12. Tell a short story of how the person impressed or inspired you.
One day, my grandpa let me drive his tractor.  I accidentally hit his mailbox.  He didn't get mad.  He made me laugh instead.
13. Write a conclusion using 1-2 sentences.
My grandpa isn't famous.  But, he is kind to everyone and he loves to make people laugh.  He is a happy hero in my family and town.
Print the Lesson
Here's the full lesson for you to print out and use.
EASY ART ACCENTS
For the art accent, you can use ABC stickers* to write a title and/or cut the writing out and paste it to fancy stationary paper.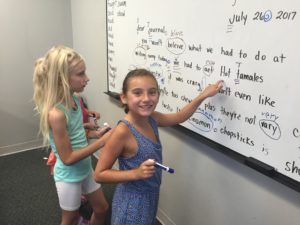 A to Z Word List (Using character traits)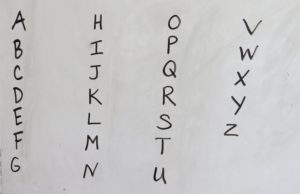 Taboo (Use the people cards)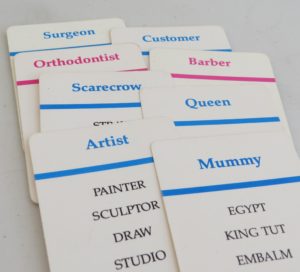 A more advanced game that can be played is Spin an Adjective, Noun, Verb