This exploration lesson works best with more advanced writers, but can certainly be tweaked for younger ones.
The kids enjoyed this lesson because they become the explorers and ANYTHING could happen in their journey.  The catch and humorous conclusion to their personal exploration story was that they didn't get recognized as a famous explorer like Columbus did.
Common Core State Standards
NOTE: This lesson can address the following Common Core State Standards:  CCSS.ELA-LITERACY.W.K.3, W.1.3, W.2.3, W.3.3, W.3.3.B, W.3.3.C, W.3.3.D, W.4.3, W4.3.A, W.4.3.B, W.4.3.C, W.4.3.D, W.4.3.E, W.5.3, W.5.3.A, W.5.3.B, W.5.3.C, W.5.3.D and W.5.3.E.
HERE'S THE LESSON
To get a full understanding on how I conduct each writing lesson you may want to read the Writing Prompts Introduction post.  The lesson outlined below (and all other prompts posted) will make more sense and be easier to follow and use.  Here's the lined paper I use for Grades K-2 and Grades 2-7
Short Video
Show this short 3 minute video titled, "Age of Exploration" to get the kids thinking and aware of the many problems that can happen along the way.
Tell the Story Line
First, tell the story Line:   "You're going to be an explorer and you're going to write an imaginary personal narrative about the time you discovered land."
Brainstorm
Next, have the writers decide the time, place and reason for going to sea.
Third, have them imagine what their ship(s) looked like and the people that accompanied them.
Fourth, have the writers brainstorm problems that can occur at sea (sea sicknesses, bad weather, arguments among people etc.)
Show the 5 Sections
Introduction (self, time, place, reason for going)
Describe the ship and team
1st problem at sea
2nd problem at sea
Spotted land but not famous
As mentioned in my writing prompts introduction:  K-1st Graders are encouraged to write 1 sentence for each section, 2nd Graders 2 sentences, 3rd Graders 3 sentences and so on.
NOW TO WRITE!
Guide the students through the following steps so their story is organized and complete.  They are free to write these ideas in their own words.
Begin by completing the following sentences:
It was (year).  I, (name), was living in (country).  I loved (water/boat activity) and wanted to __________. 
2.  Second, describe the ship, the ship's name and the people on it.
3.  Third, describe the 1st problem.
4.  Fourth, write about the 2nd problem.
5.  Fifth, describe what you saw and what you did.
Finally, on (month), (day), (year), we spotted land for the 1st
6.  Lastly, conclude with a humorous statement about not getting recognized for your discovery.
Print the Exploration Lesson
Here's the full lesson for you to print out and use.
Once the writers have finished their story, they can make a very simple spy glass.  This super easy art accent rewards the children for their work!  Using brown and black construction paper, simply cover a paper towel roll.  If you can find sturdy cardboard tubes, use those.  They last forever!  I found a barrel full at our local Scrap Exchange.  I don't know what they're from, but they make great spy glasses!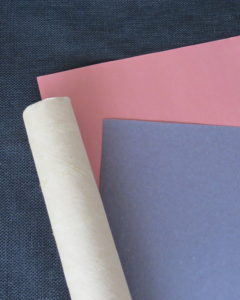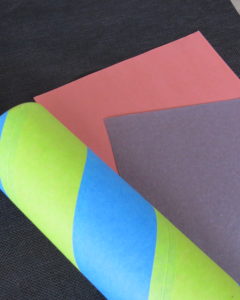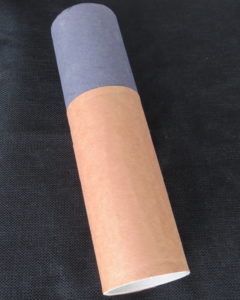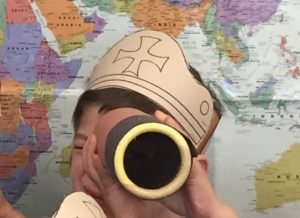 Here are a couple examples: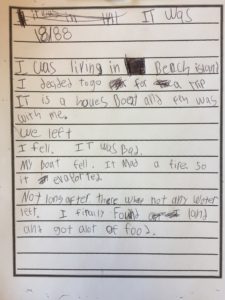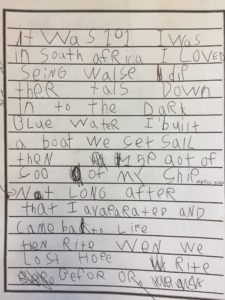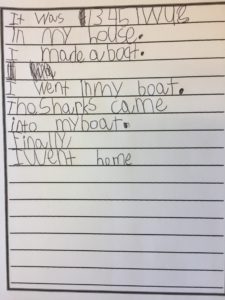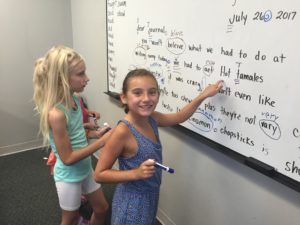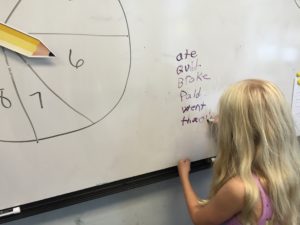 A to Z Word List– (Focusing on countries)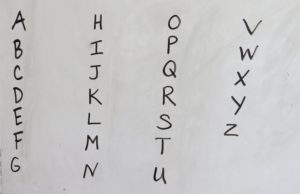 Spin.Describe.Guess:  (Talking Game #5) Describe a place that you've been to!