*This post contains affiliate links.  For more information, see my disclosures here.*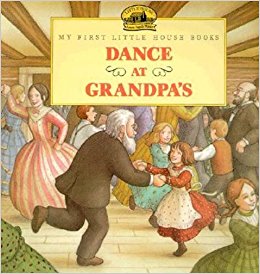 I came across the book Dance at Grandpa's* by Laura Ingalls Wilder somewhere, somehow.  It's in my library of children's books here at home.  When I actually took time to read it, I was so impressed with how descriptive the story was about a family event.
I wanted to give my campers an opportunity to describe a family event of theirs.  Since the event in the story took place during the winter, I decided to teach this lesson in the winter as well.
To get a full understanding on how I conduct each writing lesson you may want to read the Writing Prompts Introduction post.  The lesson outlined below (and all other prompts posted) will make more sense and be easier to follow and use.  Here's the lined paper I use for Grades K-2 and Grades 2-7
Here's how the lesson went:
We brainstormed family events that we've experienced
Christmas party, Grandma's birthday, a baby shower, a cousin's graduation, a pool party, baptism, 1st communion etc.
I read the book Dance at Grandpa's house to the group.
I gave the campers time to think of a family event. They had the option to write this story in 1st or 3rd  The younger children found it much easier to write in first person, making it a personal narrative.
Show the 5 sections of the story:

Introduction: setting, main character, time and location
Describe the location
Describe the people's actions
Describe the start of the event and the meal
Conclusion: end thoughts and feelings
Then we wrote!
Introduce the setting and main character
There was a little (girl/boy) named ______ who lived in (city or state) in a (type of house).  She/he lived there with _________.
Describe the event's time and location
One (season), (time of day), everyone was (emotion) about (event) at (place).
Describe the location
(name of main character) loved (place).  Describe it.
Describe everyone's actions.
It was time to get ready for ________.  Describe what everyone did to prepare.
Describe the start of the party/fun/event.
Soon (everyone) began (actions).  Describe all the fun.
Describe the meal.
Then, everyone sat down to eat.  Describe the food or meal time.
Describe the end including the thoughts and feelings people had.
Here's the full lesson for you to print out and use.
As soon as the students finish their story, they can work on their art accent.  If their family invent indeed takes/took place in the winter, they can add a winter snow art accent to their border.
GAMES that we played following this lesson: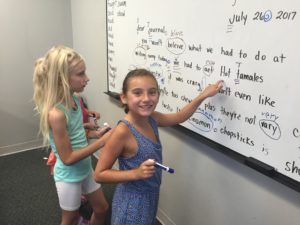 Sentence Scramblers  (using descriptive sentences from the book, Dance at Grandpa's.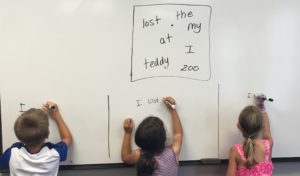 Tale or Truth- telling your own stories.