Easy art accents are highly motivating to writers and reward them for the work!  In addition, they add color and charm to each child's story.
Take it a step further, add FOOD to a writing prompt and all of a sudden, kids are ready to write!
*This post contains affiliate links.  For more information, see my disclosures here.*
Bringing in candy corns for the students to try was a big hit and also a big part of the Candy Corn Opinion writing prompt.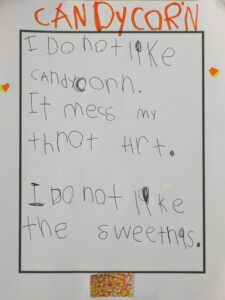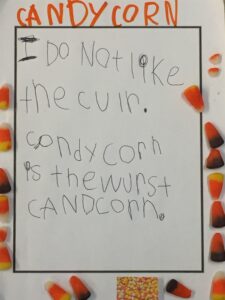 The campers wrote on lined paper with a border.  Here's a printout of the lined paper I use for Grades 2-7  and Grades K-2, and  printout of a border with no lines to use with very early writers.
Here are 3 art accent ideas to go along with any writing piece about candy corn:
CANDY CORN STICKERS
Use candy corn stickers to fill the border.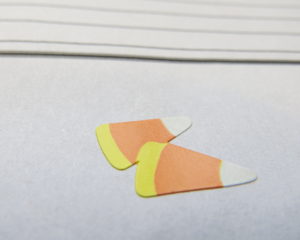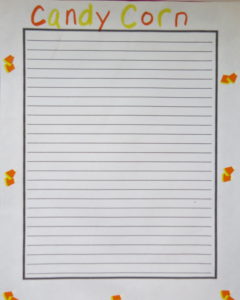 GLUE AN IMAGE
2. Cut out tiny images of candy corn for the students to glue to the bottom of their writing piece.  Here's a full page of them for you to print and cut out.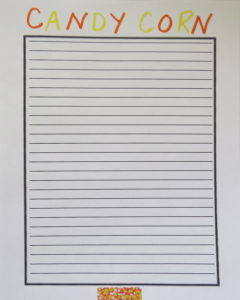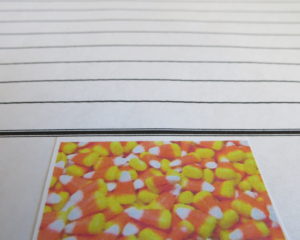 GLUE THE CANDY CORN
3. Glue the candy corn* itself to the border.  Because of the weight of the candy corn, it's best to print the lined paper on cardstock for this idea.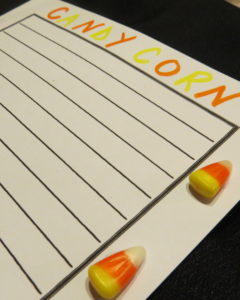 A shout out special thanks to companies like Brach's* and Jelly Belly* that create candy corn and help make writing fun for kids!
Candy Corn Science
For years, I've been following the master of slime and science at Little Bins for Little Hands.  Take the Candy Corn Lesson a step further and complete any one of these fall candy science activities.