Anytime I teach a lesson on popcorn I bring my Stir Crazy West Bend Popcorn Popper.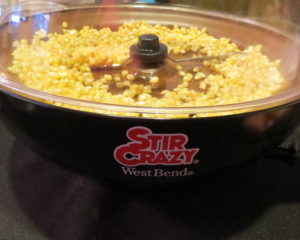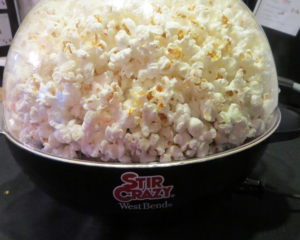 It is a HUGE hit every time, a great motivator to get kids to write and even better reward for their finished work.  If you don't know about this perfect popper, you can read its full post here!
For this writing prompt, the students write a non-fiction piece about popcorn.  Then they watch the pops and eat them up.
The first time I taught this lesson, I only had one short hour to work with.  One of my slowest writers became even slower, distracted by the popcorn that would be coming.  When he finally wrote he got very lazy, just copying notes that I had written on the board and supporting the facts with lists of words rather than elaborating with sentences.  I gave him the popcorn, but realized, I had missed the point with this student.  The point is to guide and help the students write a good piece.  The popcorn is their reward for hard work!
To get a full understanding on how I conduct each writing lesson you may want to read the Writing Prompts Introduction post.  The lessons are designed to guide students step by step to complete a writing piece and to feel successful.  They can do it.  Really try to hold them accountable and make sure they finish a quality piece before making the popcorn.
Last thing, before I go into the lesson, one key fact about popcorn is that people can flavor it many different ways.  This idea may be relatively new for some students.  When I lived in Mexico, they would put butter, chili powder and lime.  The popcorn in China was almost always sweet.  Here in America, popular toppings are cheddar and caramel.
So, to go along with this popcorn writing lesson I brought different flavors for the students to sprinkle onto their reward popcorn:  salt, sugar, cinnamon, cocoa, paprika, chili powder and garlic powder.  They LOVED this and one girl commented, "Oh I want to try this at home.  I never thought about sprinkling different flavors on my popcorn!"  If you're going to do this lesson and bring popcorn, I do suggest trying to bring flavors too!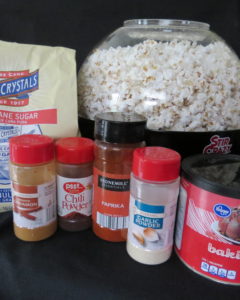 Ok, now for the lesson!
Again, to get a full understanding on how I conduct each writing lesson you may want to read the Writing Prompts Introduction post.  The lesson outlined below (and all other prompts posted) will make more sense and be easier to follow and use.  Here's the lined paper I use for Grades K-2 and Grades 2-7
Remind the students that a non-fiction piece consists of facts and information.  While tempted to, they won't be able to include their opinion about popcorn this time.  If you are teaching an older group, you could have them do a little research on popcorn so that they can incorporate more advanced facts and information.
Here are the steps!
Brainstorm facts about popcorn with the kids.  Ask them what they know about popcorn.  Write their responses on the board.  Here are some facts to guide them if they need it:

Popcorn can be popped in several ways (stove, microwave, popcorn machine).
Popcorn can be flavored in many ways (butter, salt, sugar, garlic powder, cheese, caramel, chili powder,  lime etc.)
Popcorn is sold in many places (cinema, sports events, concerts, fairs, carnivals etc.)
Popcorn is a healthy snack (low calorie, low fat, low sugar, fiber, some protein)
Popcorn can be used to decorate (Christmas trees, Halloween faces etc.)
Popcorn is inexpensive
Explain to the students that they are going to engage their readers by asking them questions about popcorn.  These questions will lead into the facts.  Ask the students to think of questions that they can ask.  Here are some ideas my students came up with:

When was the last time you ate popcorn?
Where were you when you ate it?
How do you like to flavor your popcorn?
Did you know that…(write an interesting fact about popcorn)?

Brainstorm conclusion questions.  This question gives the reader something to think about.  Here are some examples:

When will you eat popcorn next?
What new flavor will you try?
Does this make you hungry for popcorn?
4.  Show the 5 sections on the whiteboard
Question(s) to hook the reader
Fact 1 explained
Fact 2 explained
Fact 3 explained
Question(s) to think about
Now to write!
Guide the students through each step.  They are free to use their own words.
Write a question(s) to grab the readers attention.
Follow the question with a fact that relates to the question.
Explain the fact with examples.
Write fact number 2.
Explain it with examples.
Write fact number 3.
Explain it with examples.
Ask a question for the reader to take with them.
Here's the full lesson for you to print out and use.
Because we spent the rest of the time eating popcorn, we didn't have time to play games.  But if I were to play games following this lesson they would be: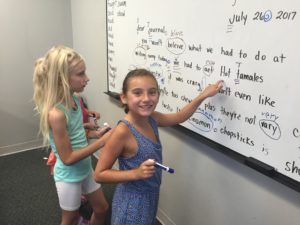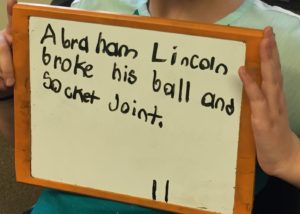 Answer. Question-Speaking Version.