Students can learn how to spell sight words by following these 8 easy steps. If you're not sure what sight word sentences are, you'll want to read What Are Sight Word Sentences? first.
TEACH SIGHT WORD SENTENCES!
Things to know before you begin:
First, remember that these sentences should be taught after the child has learned the names and sounds of each letter in the alphabet.
Second, plan to spend at least one week on each sentence.
NOTE: For language learners, I suggest spending two weeks on each sentence. One week is spent learning the sentence and building vocabulary. The second week is spent learning the indicated spelling pattern (which also introduces new vocabulary).
3. Third, after introducing a sight word sentence to students, you'll want to write the individual words on an alphabetical word wall for the students to refer to later, as needed.
4. Fourth, make sure the child knows how to spell the sight words in one sentence before moving onto the next sentence. The underline words DO NOT need to be spelled correctly to move on.
Now the 8 Steps!
I use different sentences in the samples below simply to show variation.
On the first day, write the sight word sentence at the top of a page.
The child copies the sight word sentence under it and adds a sticker or drawing. Add the new words to the student's word wall.
2. Second, the student writes the sentence on his/her own using the words from the word wall to remember how to write it. He/she can add a sticker and/or drawing.
3. Third, the student writes the sentence 3 times using a different vocabulary word for each sentence. The vocabulary word does not need to be spelled correctly.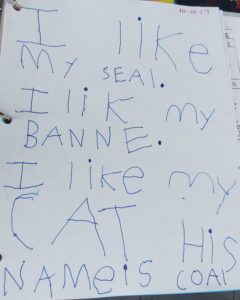 4. Fourth, practice spelling the individual words using letter tiles or cut up pieces of paper.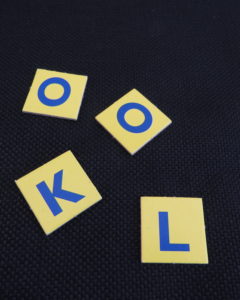 5. Fifth, play Word Scramblers writing the word out.
Here are the list of words for each list.
These lists of words can also be used to assess your child's ability to read each word. Highlight each word that the child can read. (You can have the child highlight the words just as well.)
Continue to practice any unknown words. Reward any progress or completion!
6. Sixth, play Sentence scramblers using index cards.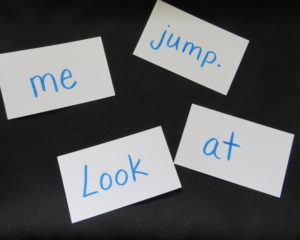 7. Seventh, play Sentence scramblers writing out the words.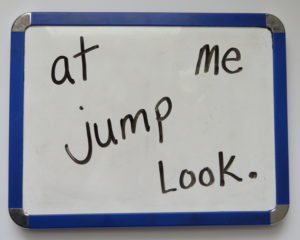 8. Another great game that can help the children practice these words is Silly Sentences.
Lastly, Calendar Pages and Stickers are super simple art accents to inspire and accompany the students' sentences!
Use these 8 steps to help students learn how to spell sight words!
Print the 8 Steps
6 Lists of Sight Word Sentences
Click here to find all 6 lists of Sight Word Sentences.
Informally Assess Your Students
Informally assess your child's progress using these 5 EASY STEPS!
Take this lesson a step further. Have your students watch the following Sight Word Sentence Video.